---
MICCOSUKEE SEMINOLE NATION

Receives BUFFALO TIGER'S Resignation
on
MARCH 24, 1961
&
SENDS
LETTER TO U.S. COURTS
(With Buffalo Tiger's Resignation Attached)
Re-Typed for clarity
---
Scanned Image Archive

Letter to U.S. Courts Page 1
Letter to U.S. Courts Page 2
---
COPIES SENT CERTIFIED MAIL TO:


NEW YORK TIMES, WASHINGTON POST, SMITHSONIAN INSTITUTE, UNITED NATIONS, LOS ANGELES TIMES, GOVERNOR GRAHAM, ASSOCIATED PRESS, CBS - 60 MINUTES, AND OTHERS
---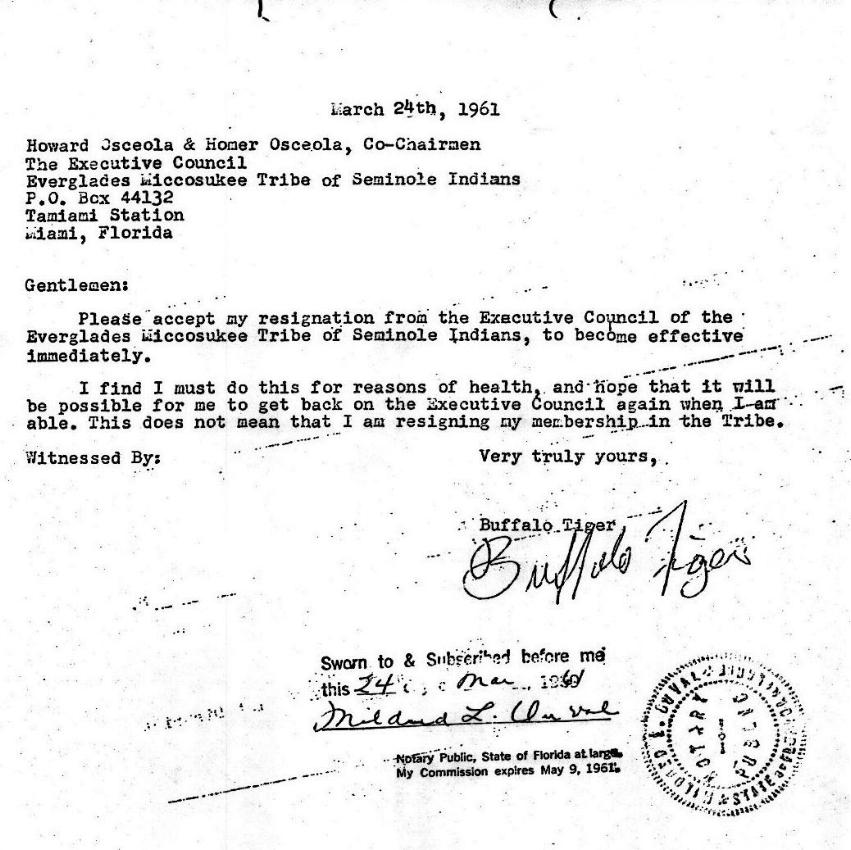 ---


March 24th, 1961

Howard Osceola & Homer Osceola, Co-Chairmen
The Executive Council
Everglades Miccosukee Tribe of Seminole Indians
P.O. Box 44132
Tamiami Station
Miami, Florida

Gentlemen:

Please accept my resignation from the Executive Council of the
Everglades Miccosukee Tribe of Seminole Indians, to become effective
immediately.

I find I must do this for reasons of health, and hope that it will
be possible for me to get back on the Executive Council again when I am
able. This does not mean that I am resigning my membership in the Tribe.

Witnessed By: Very truly yours,


Buffalo Tiger
[by his signature]


Sworn to and subscribed before me
this 24th day of March, 1961
[by her signature]


Notary Public, State of Florida at large.
My commission expires May 9, 1961.