[home]
---
MICCOSUKEE SEMINOLE NATION

OFFICIAL AUTHORIZATIONS & APPOINTMENTS

---
Notice to public: This notice is given as an initial response to the unauthorized website located at: www.sovereignmiccosukeeseminolenation.com,
published by renegade Indian extremists. These Indians are now lying and deceiving the American public by impersonating Miccosukees. They fall into the same camp as Mike Osceola, who was disinherited by his father, William McKinley Osceola. These individuals have disgraced themselves publicly and are no longer considered members of the Sovereign Miccosukee Seminole Nation.

The below authorizations were signed by the Co-Chairman, Honorable Bill M. Osceola recognizing www.MiccosukeeSeminoleNation.com as the official national web site.

It should also be noted that the honorable Co-Chairman bestowed citizenship to legal counsel Morton H. Silver and others, per contracts and agreements signed by the Sovereign Miccosukee Seminole Nation, in partial payment thereof for Mr. Silver's uncompromising legal services that spanned over half a century.
---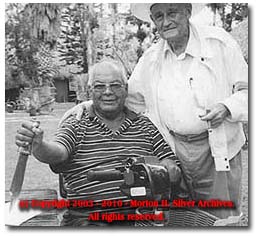 The Unconquered
Co-Chairman, Bill M. Osceola with Legal Counsel, Morton H. Silver, 2003.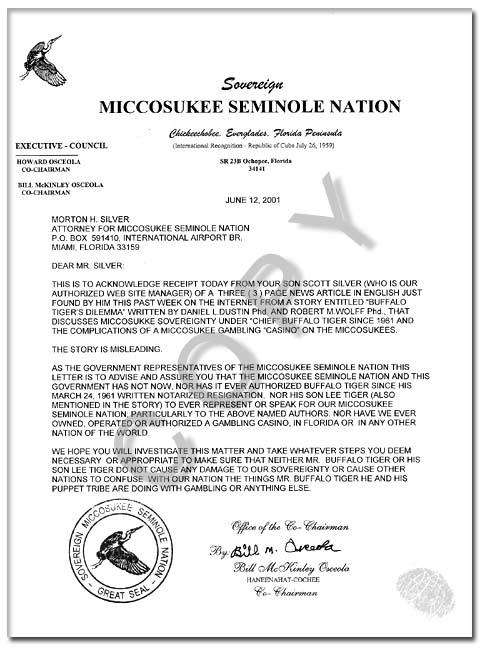 See also: May 22, 2001 Bill Osceola to Morton H. Silver - Attorney General
---
Birth Certificate - Scott J. Silver
---
Managing Editor, Seminole Indian News
Confirmation of Appointment - January 28, 2001
---
Original authorization to publish "official" national web site signed by
Office of the Co-Chairman, Bill M. Osceola. August 7, 1999.
(stay tuned)
---
Morton H. Silver - Attorney General Appointment
(stay tuned)
---
Scott J. Silver - Miccosukee Seminole Nation Lawyer Certification
---
Co-Chairman Bill M. Osceola appointment of Deputy Attorney General for the Sovereign Miccosukee Seminole Nation on February 13, 2003.
(stay tuned)
---
Deputy Attorney General for the Sovereign Miccosukee Seminole Nation - Ratified, Confirmed and Approved by Co-Chairman Bill M. Osceola on February 14, 2003
---